Returns Information Center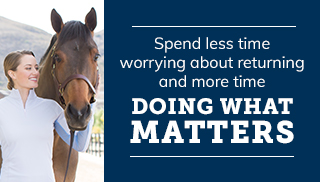 100% Happiness Guarantee
At SmartPak, your happiness is at the core of everything we do. As a company of riders and horse owners, we put our products to the test in our barns and on our horses, and back every order with our world-class customer service so that you can shop with confidence. As part of our Happiness Guarantee, we promise you:
Expert advice from riders
Free shipping every day
Free return shipping on sized items
Hassle-free returns up to 365 days after purchase
Need to return something?
Our Online Returns Feature makes the process quick and easy! Here's what you need to know:
Items are eligible for return up to 365 days after purchase

Items returned within 60 days are eligible for a full refund, exchange, or account credit
Items returned within 61-365 days are eligible for an exchange or account credit

Items must be returned in like-new condition with the original packaging. We are unable to process a return on dirty, unwashed, or used items (for defective or warrantied items, please see special instructions below)
Final Sale items cannot be returned or exchanged
Supplement bags/buckets can only be returned if sealed & unopened. Custom, daily-dose SmartPaks cannot be returned
See special instructions below for further information on how to return select items, including warrantied or defective items, blankets, customized items, helmets, protective air vests, saddles, supplements, oversized items, and undergarments
Now that the fine print is out of the way, head over to your Order History Page. Look up the item(s) in your order history and click on the "Return this item" link. We'll ask you a few simple questions to help you complete your return.
If you need assistance with your return, please give us a call at 1-800-461-8898. This is recommended for more complicated returns – for example, if your item is damaged, if you'd like to make an even exchange instead of a return, or if you received an item as a gift.
Free returns on sized items
As riders, we know that it can be tough to buy new tack or a pair of boots without trying them on. That's why we moved the fitting room to your living room (or barn). From breeches to blankets, if you or your horse can try it on, you can return it, free! As long as you complete your return online or by phone within 60 days of the purchase date and the item is in like-new condition with the original packaging, you can return it, free. We'll provide you with a SmartPak pre-paid return label. Some sized items are eligible for free returns but may require special handling. Find out more in the section below.
Refunds and Account Credits
For items returned within 60 days after purchase, you'll be able to choose whether you'd like to receive a refund or an account credit. Refunds will be issued to the original payment method(s) and may take 3 to 5 days to post to your bank or PayPal account after the return has been processed.
Items returned within 61-365 days of the original purchase are only eligible for an account credit.
Account credits will be issued as soon as the return has been processed and will automatically apply to your next order.
Please note that we can only refund the original purchase price. For all non-sized items being returned, the customer is responsible for paying the return shipping charges.
Exchanges
Need to exchange an item?
If the item you wish to exchange was purchased within 60 days, follow these steps to get your new item as fast as possible:
Use our website to place an order for the item and pay for it as you normally would
Use our Online Returns feature in your order history to return the item you don't want (it must be in like-new condition and in its original packaging)
Your returned item will be refunded as soon as it is received and processed by our returns facility
Prefer an even exchange, have a problem with an item, or the item was purchased 61-365 days ago? Contact our Customer Care Team and we'll review your order and help set up an exchange.
If you received a discount on the item that you'd like to exchange, please call 1-800-461-8898 to proceed with your exchange.
Final Sale Items
In order to bring you the best deals possible, some of our items are designated as Final Sale. These items are not eligible for return or exchange. Final Sale items will be marked as such on their product pages and throughout the checkout process, so make sure to triple check that you have selected the right options before hitting the submit order button!
Frequently Asked Questions
Policy Updated: October 21, 2020