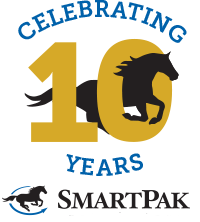 The SmartPak Retail Store is now open for in-store shopping. Current store hours are subject to change, so please call us at 508-651-0045 for the most up-to-date store hours.
Monday - Wednesday: 9AM to 5PM
Thursday - Friday: 9AM to 7PM
Saturday: 9AM to 5PM
Sunday: 11AM to 5PM
We will continue to follow national and local guidelines related to Covid-19 and encourage customers to call us at 508-651-0045 or visit our SmartPak Retail Store Facebook page for the latest updates. To ensure the safety of everyone in the store, please wear a mask while you are in the store, and follow the CDC guidelines of remaining at least 6 feet away from other people, washing your hands frequently, and staying isolated if you are sick or if you have been in the presence of someone who is sick in the past 14 days. The store associates will all be wearing masks and are cleaning the store on regular basis in accordance with CDC and local guidelines.
We also offer video shopping by appointment for customers. Please click here to book your appointment, or call us at 508-651-0045 for curbside service.
Hours
Monday - Wednesday: 9AM to 5PM
Thursday - Friday: 9AM to 7PM
Saturday: 9AM to 5PM
Sunday: 11AM to 5PM
Holiday Hours
New Year's Eve: closes at 4PM
New Year's Day: opens at 12PM
July 4th: closes at 4PM
Christmas Eve: closes at 4PM
Store closed on Easter,
Thanksgiving and Christmas Day.
Get in Touch

call us
508-651-0045


social media
Like
us on Facebook!

What Makes The Store Awesome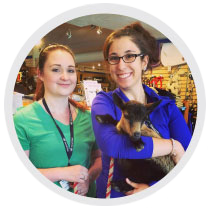 Knowledgeable Staff
We're committed to providing expert knowledge to riders of ever level of experience and ability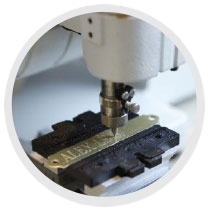 Custom Everything
We offer boot fitting, engraving, embroidery, and more to completely personalize your experience!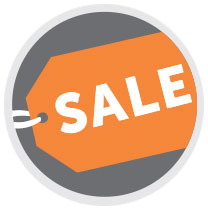 Clearance Outlet
Come in and save on deals you won't find on our website or anywhere else!
---

• Saddle fitting at your barn • Test ride saddles available

• Blanket cleaning and repair • Clipper repair & blade sharpening • Tack repair

• Custom engraving on site

• Free nutritional consultation • Build your own SmartPak™

• Expert fitting for helmets, boots, safety vests, and show apparel

• Catalog outlet with something new every time you visit!
Like the Store on Facebook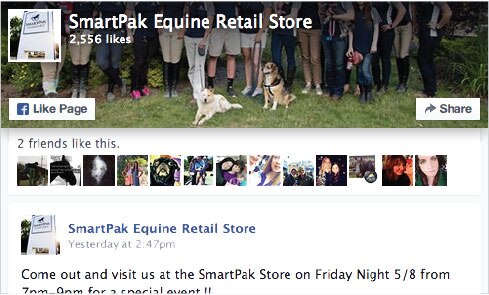 The SmartPak Store on Facebook
"Like" the store on Facebook for exclusive deals, coupons, and to keep up to date with all of the awesome events that happen!
Check out the feed to the left to see our most recent post, comments and interactions.